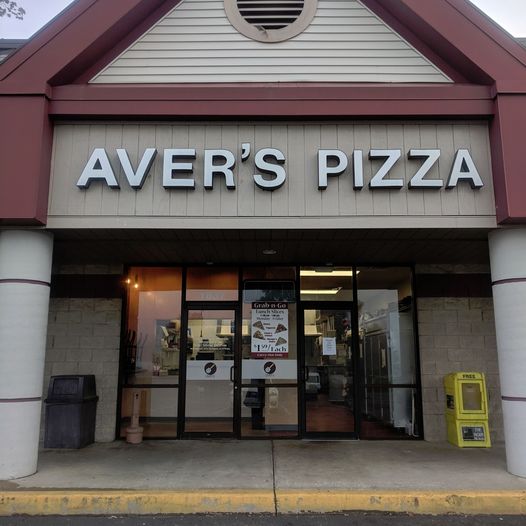 North Location
Aver's Gourmet Pizza started small. Founders Brad Randall and Kris Kaiser saw an opportunity when a discount pizza chain closed, leaving behind a turnkey location. Fearlessly, they jumped into the restaurant business and opened the Aver's North location in 1995.
They began to win awards for their gourmet creations. The Cream & Crimson pizza won the Exotic Pizza category at the 1999 Pizza Festiva in Las Vegas; The Parthenon pizza won the Vegetarian Pizza category the following year; and the Beckon Desire pizza won the Vegetarian category the year after at the Best of the Midwest contest in Chicago. Customers flocked to Aver's to try pizza from the restaurant with this trifecta of honors. Soon one location wasn't enough – it was time to expand!
Aver's South location was an immediate success when it opened in 2001. Indiana University's Kelley School of Business and the Johnson Center recognized Aver's with their Growth 100 Award as one of the fastest growing companies in the state. Aver's also made Pizza Today magazine's Hot 100 Independents list as one of the busiest independent pizza operations in the country.
2009 saw the Lambda Gyro Pi named Winner of the South Central Region the at International Pizza Challenge™ held in Las Vegas, NV, as Aver's competed against pizza chef's from across the globe!
Aver's East location, complete with Dining Room, opened in 2012. Unfortunately, after the pandemic and an attempt to pivot to from buffet style to full service, the location closed in August of 2023.
FUN
Brad and Kris worked hard to get Aver's "Gourmet Pizza To Go!" message out around Bloomington. Their "Pizza of the Week" campaign showcased the extensive and unique pizza toppings on the menu, leading to the Signature Pies menu still offered today.
Awards
Cream & Crimson
Winner of the Exotic Pizza category
1999 Pizza Festiva, Las Vegas
The Parthenon
Winner of the Vegetarian category
2000 Pizza Festiva, Las Vegas
Beckon Desire
Winner of the Vegetarian category
2001 Best of the Midwest Chicago Pizza Expo™
Lambda Gyro Pi
Winner of the South Central Region
2009 International Pizza Challenge™
Chicken Bacon Ranch
3rd Place Non-Traditional category
2018 Quest for the Best in the Midwest™
Aver's Pizza
Ranked among the nation's top 100 independent pizza operations by Pizza Today magazine 2000-2009
Selected as an Indiana Growth 100 Company 2001-2004
Voted Best Pizza Sauce in Bloomington
By the Bloomington Independent, 1999
Voted Best Pizza in Bloomington
By the Bloomington Independent, 2000-2001
At the Taste of Bloomington, 2002
By readers of the PIN-UP, 2003
By readers of the Indiana Daily Student, 2003-2004
By readers of The Herald-Times, 2003-2005 and 2008
Aver's® Pizza locations are smoke-free.
All prices and menus are subject to change at any time. Please confirm prices at time of order with your preferred Aver's Pizza location.